Mephiles the Dark

Mephiles the Dark: Shadow the Hedgehog Eviler Twin

Universe

Sega

Debut

The Sonic Gaming Team

Appears in

Sonic the Hedgehog(2006)

Friend

??? and ???

Rival

Amy Rose, Shadow the Hedgehog and Cpend7
Mephiles was accidentally created during the Solaris Project, under the supervision of the Duke of Soleanna. In one of the Project's experiments, Solaris was split into two separate entities: Iblis, its raw power, and Mephiles, its cunning mind. As Mephiles was trying to escape the facility, he was sealed in the Scepter of Darkness by Shadow the Hedgehog, who had traveled through time by ten years before the events of the game.
Biography
Classic Mode
???
Trivia
He the Only Sonic Character that aculy killed Sonic
He is one of the Few Loved Character from Hated Games
Mephiles have a Rival is Cpend7
(Insert More Trivia)
Video
Trophy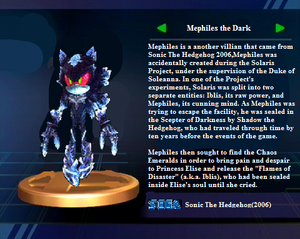 Color
Mephiles normal Eye Color is Yellow, Bule Red and Purple
Community content is available under
CC-BY-SA
unless otherwise noted.